In The Land of Gotham...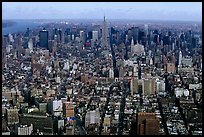 We took a bumpy ride into Newark Airport Wednesday and have woken up to snow flurries two days in a row. I've dipped into Brooklyn for a couple of days to work on the Taize choir record that seems to be sounding better and better with each adjustment.
We're feeling a little guilty take th is hiatus while there's so much we left to do back home. We're working quickly to get our house on the market, we've found a house we want to buy, I start a new job in a week, etc..., but since we won't have a chance to do this for a while, what the hell. Posts have light for a while on account of all the stuff going on, but will resume with more frequency once I get back, including a big one over at Newcritics, so don't abandon me yet. See ya soon...